How can I control chickweed?
Identify your weed.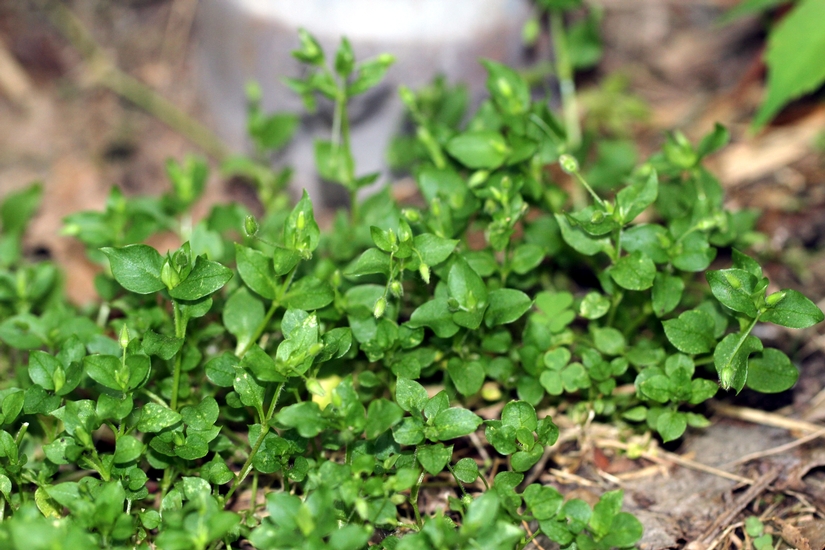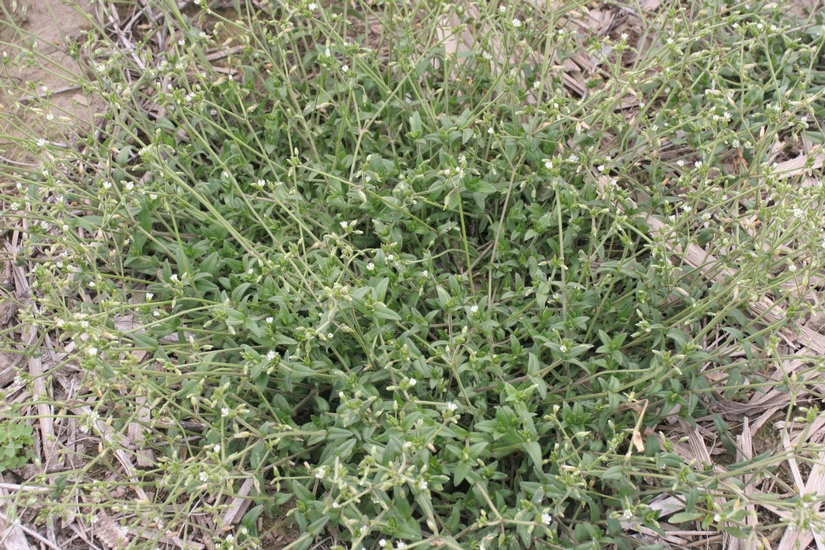 The three main types of chickweed in Virginia are common, mouse-ear, and sticky. Common chickweed and sticky chickweed are both annuals and a bit easier to control than the perennial mouse-ear chickweed. Though, all chickweeds are easier to control than many other broadleaf weeds of turf. Most "three-way" herbicides will work well. Examples of "three-way" herbicides would be any product that contains 2,4-D, dicamba, and MCPP including Trimec Classic, 3-Way Selective, Triplet, and others.
The best post-emergence control is achieved in late fall when the weeds are still young but that almost never happens as the chickweed are not yet big enough to spur people to action. In early spring, given a few warm days, young chickweeds will be easier to control than later in early summer when the weeds are actively blooming. Single treatments will often control non-blooming plants of the annual types.
Plants in full bloom tend to be harder to control with herbicides since most of the herbicide moves up towards the flowers and seedpods and not toward the roots. Single treatments will often control non-blooming plants of the annual types but repeat treatments at 3-4-week intervals may be needed to control blooming plants or perennial types.
For homeowners looking for an alternative to herbicides, chickweed is easy to pull and is not commonly cited to cause any allergies or poisoning problems. Hand pulling will usually not get all the plants but will help promote turf competition and reduce seed for next year.
Common chickweed is edible in fresh salads or as a pot herb.
Given enough time, chickweeds will die out with summer heat and mowing but only after depositing thousands of seed for next year.
Healthy lawn grass is the most powerful weed prevention available. Practices that promote turfgrass health are required for successful weed management in the lawn. In fact, most weed problems in Virginia can be attributed to a single mistake made by most homeowners: mowing the lawn too short. No other cultural input for lawns exceeds the effort given to mowing, so mowing correctly is critical for optimal turf grass health and performance.
Mow turf when it needs to be clipped according to its recommended cutting height and follow the one-third mowing rule that says you never remove more than one-third of the leaf blade at any mowing event. For example, given that the recommended lawn height for tall fescue is two to three inches, begin mowing as soon as your new lawn reaches a three-inch height and cut it no lower than two inches.
References:
Virginia Tech, Dept. of Plant Pathology, Physiology and Weed Science, Dr. Shawn Askew, Turfgrass Weed Specialist
Virginia Tech, Introduction to Weeds and Weed Management, https://www.pubs.ext.vt.edu/content/dam/pubs_ext_vt_edu/456/456-016/ENTO-335D.pdf